Shadowlands (1993)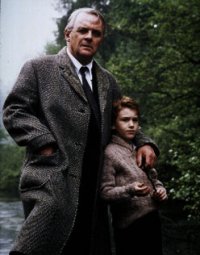 Anthony Hopkins is sooo good.
He can be the epitome of evil in Silence of the Lambs, and in
Shadowlands
he can be the absolutely believable aging bachelor professor CS Lewis.
I've seen this film before, about nine years ago, before I was married. I remember being deeply moved. In fact, literally straight after seeing
Shadowlands
I read CS Lewis'
A Grief Observed
from cover to cover.
Watching it now, as a married man, the message rings even truer. Life - and love - is inevitably associated with pain. Enjoying life - a theme of Lewis' real life - comes from acknowledging, and even celebrating, the pain in life.
From a filmmaking point of view, this is Richard Attenborough. This is classical style filmmaking. Very simple and straightforward, not very multi-layered, and visually beautiful. The change in atmosphere from stuffy, traditional Oxford to the brightness and vividness of the natural scenes later in the film reflect the journey Attenborough is taking us on.
Also interesting to see this was developed from a stage play, which was itself based on a book. Always interesting to see how these things develop.
By the way, Debra Winger is absolutely amazing too.